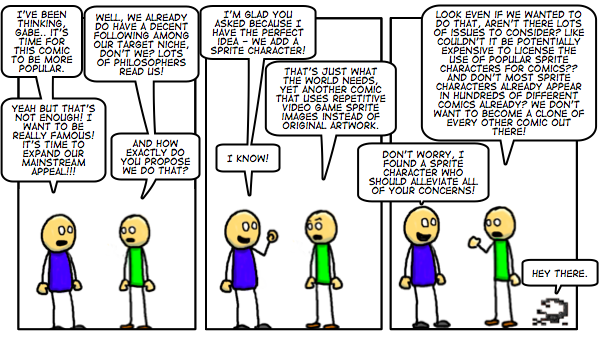 Comic Strip: Original Source here, no copyright infringement intended - I don't own the image nor am I clever enough to come up with such a thing :)
For more Chaospet comic strips their website is great, I highly recommend it!
Barnsley's Council has always had Liberal Democrat representatives since its formation in 1972. That is until this morning (Ed: yesterday morning at time of posting!) when the final remaining Lib Dem councillor, Sharron Brook, defected for the Labour Party as only the latest to become disillusioned by the national leadership selling their souls in coalition with the Tories.

A couple of months ago,
Councillor Brook wrote a letter
to the residents in her ward to assure them of her shame over the actions of the national Lib Dems. This letter was written jointly with fellow Lib Dem, Sarah Brook, who had been defeated in the 2010 local elections. They asked their readership for their input in a way forward, namely whether they ought to:
Remain in the Liberal Democrat Party
Join the Labour Party
Beome Independent

It would appear Councillor Brook (and, I assume, Sarah Brook also) has opted to join the Labour Party in opposition to the coalition government. One aspect of this I felt particularly interesting was when the letter referred to the indifference toward the deprived people of north England clearly demonstrated by the Lib Dem national party in their coalition with the Conservatives. It seems that particularly in the North and the Midlands, Lib Dems are deserting their party. Councillor Brook's defection is only the tip of the iceberg.

Ultimately, selling out one's own principles, particularly in politics, will not go unpunished. The Liberal Democrats may have acquired themselves some power now, but come the next general election I predict there will be a huge backlash sending them into obscurity. Whether this happens or not is of no great concern for me other than the selfish pleasure that usually comes from being right. However, what I am more concerned with is the politics on the island of Ireland. When one considers 'selling out' while looking at the political parties in the 26 Counties there isn't exactly a shortage of examples, but for me what stands out most is the so-called Green Party.

I am an environmentalist. I support the pursuit of renewable and sustainable energy sources; I recycle and encourage those around me to do so also; and in the political realm I believe it necessary to check all legislation (and policy in general) against its environmental implications. In Ireland, we need to develop a much better strategy for dealing with excess waste, incinerators must be avoided. I am against nuclear power in any form and in particular I believe we ought to join the campaign against Sellafield. Other policies I support include plastic bag levies, the promotion and campaign for sustainable development, and the setting up of an agency with actual workable enforcement powers for environmental protection. It makes sense for these policies to be implemented on an all-Ireland basis, which in turn (as with almost every aspect of Irish politics) would make much more sense with the devolution of fiscal powers to Ireland. I say all this to make it clear that I am not against the Greens in principle – far from it – rather, I am disgusted by their selling out of their own principles whilst in power with Fianna Fáil and the Progressive Democrats.

The betrayals of the Green Party are so numerous and have been dealt with in depth before so I'm just going to address them in point form below:


Destruction of heritage area

– One would have thought that with the Green Party in government, and more specifically with party leader John Gormley as 'Minister for the Environment,

Heritage

, and Local Government', that our national heritage sites would be in safe hands. On the contrary, Minister Gormley oversaw the construction of a motorway through the Tara-Skryne and Gabhra valley close to the Hill of Tara, an area known for its archaeological significance. The Greens previously opposed this proposal. The excuse provided was that it was a project signed off by the former Minister and could not be reversed – a blatant lie. It is feasible that this was one of the first sell outs when the Green Party were in pre-government negotiations with Fianna Fáil.

The Corrib Gas Controversy

– Another campaign the Green Party once supported was 'Shell to Sea', but since joining government their silence has been deafening.

Dublin Bus Service Cuts

- The environmentalists are now against public transport? Similar cuts occurred in Cork where it appears the brunt of the cuts happened in the poorer areas – surely these are the areas most in need of these services?

Incinerators

– When Fianna Fáil and Fine Gael are criticising your [John Gormley] inaction in preventing incinerators you surely must begin to question yourself as Green Party leader. Its like Wayne Rooney complaining that you're always diving. Incinerators must be opposed, we must approach a much better strategy to waste management.

National Assets Management Agency

– Another policy I never thought I would associate with the Green Party is bail outs for the fat-cats who are the biggest threat to the environment and the Irish working class.

Shannon Airport

– Whatever happened to neutral Ireland? The US continues to use Shannon Airport for their war-planes. No US vehicle is being searched – I doubt they even can be searched – despite the Greens saying this would be a must in the pre-government negotiations. Surely this is a flagrant disregard for basic green principles of world peace and justice?

Lisbon Treaty

– Come on now lads, it's time for Gormley and his cohorts to admit it, if the Greens weren't trying to hold onto their power they would've been in the 'NO' camp too.7

Civil Partnerships

– In their capacity as members of the coalition government the Greens are pushing a civil partnership alternative rather than the equal right of same-sex marriage that the LGBT community deserve and that the Greens previously claimed to have supported. Another sell-out?

Education and other public service Budget Cuts

– Remember the 12,000 strong protests against education cuts in 2008? As much as they [Greens] remember their pre-government promises it seems. TD Hayes (Fine Gael) described the Greens' involvement in that 2008 Budget as "stomach churning". That's a pretty accurate description for most of us. Even more so each year since.
Ultimately, the biggest criticism of the Greens is their

Hypocrisy

– Entire u-turns between what they promised pre-election, and what they are willing to do to stay in power. For me, TD Ciarán Cuffe is the perfect example. What is almost laughable (if it weren't for the aforementioned tragic results of this betrayal of principle) is that TD Cuffe even stated before the Greens went into government with Fianna Fáil that it would be a "deal with the devil" and would leave the Greens "spat out after five years... decimated as a party". His prophesy will soon be shown to be true! Now, he recently finds himself in the rather nice position as a Minister of State with responsibility for Horticulture, Sustainable Travel, and Planning & Heritage, working alongside the devil.
Just as with the Liberal Democrats in England, the Greens are finding their sell out affecting their membership, with the most prominent of those that left and/or defected including Chris O'Leary, Patricia McKenna, Betty Doran, Pat Kavanagh, Déirdre de Búrca and Dr. Edward Horgan. Moreover, in November last year the Donegal branch of the party began their disaffiliation from the national party. While Minister Gormley dismisses the criticisms each of these provide when leaving the party, he doesn't seem to understand that their criticisms are the same as many of their voters, insisting that 'on the doorsteps' they're getting a great response for their achievements in government. He must, therefore, have been astounded to see both their rejection at the 2009 European Election and their number of county council seats plummet from 18 to just 3 in the 2009 local elections.
Again, the demise of the Green Party in Ireland provides me with no pleasure. I would much rather they were able to keep the corrupt Fianna Fáil in check, or at least implement some meaningful green policies as opposed to greenwash about bulbs and the like. I wonder how their counterparts in the 6 counties (as members of the same branch of the Green Party) feel about these accusations.
In
his explanation for leaving the party Dr. Edward Horgan
makes quite a poignant suggestion to his former party's leader, and I feel this is the best point to end this rant on:
"Perhaps the new incinerator in John Gormley's constituency can be used to dispose of their unwanted principles."

Note: If I had the time, I'd have made a new logo for the Green Party to end with, using banknotes as the background (the colour of money); it would've been all very funny, you'd have thought "gosh, he really is a witty chap", and we'd all be better for it. As it is, writing this took a half hour longer than I'd planned (it took 32 mins to write) and so I couldn't be bothered :)